Carports are an extremely valuable addition to any building or private property. They not only serve the purpose of sheltering your vehicle but also come in handy when you have guests over. Apart from this, they also contribute toward the exterior design of your house. Whether you choose to have them set up in the front outdoor area or backyard, they blend in effortlessly, giving the property a modern touch.
If you're thinking of how to go ahead with the design of the roof, there are 2 main options to choose from. Both are available in a variety of colours. So, whether it's a solid look you're in search of or a modern blend, both are at your disposal.
We now arrive at the question of what differentiates one from the other. While the primary answer is the roof design, both flat roof, and gable carports have other details to them that form the unique experiences they each offer. Getting into these differentiating details will help you decide which carport is a better fit for your home.
Is a flat roof carport the right match for my home's outdoor space?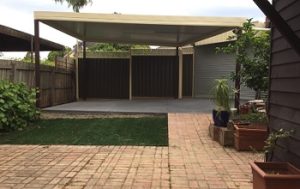 Named after it's distinguishing trait this particular carport appears to be flat-roofed with a slight angle to it. This angle ensures leaves, other debris and water roll off and do not collect. It is made from a combination of materials. Its roof is mainly made from Colorbond or polycarbonate while the posts and other parts used for the frame are crafted from steel, aluminium or timber.
If you're looking to set up a carport that doesn't cost a bomb and needs little time for installation, this is the option you should go for. And while there are DIY kits for the same that can appear to be convenient, it is best advised that you get a professional to set up the same. At least that way you get the guarantee of a sturdy setup and use of premium materials.
Or should I opt for a Gable roof carport?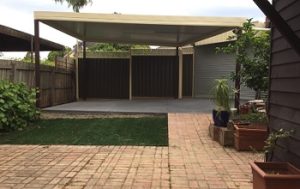 This second option is known by the two sloping sides that meet at the top to form a ridge. Known for their aesthetic value, you simply can't miss out on the elegance they add to the property. When you need to park more than one vehicle, this is your best bet.
The outdoor space automatically gets a more structured and sophisticated look with this carport while also giving you the benefit of space. With this kind of an aesthetic value, it is naturally priced on the higher-end.
However, it's an addition that promises a good return on investment if you plan to lease or sell your house in the future. In comparison, they take longer to be set up, but well, they sure are worth the wait. If you are opting for this, you can choose from materials like steel, aluminium, and timber, depending on the look you are aiming for.
By evaluating their functionality and aesthetics, you can select a carport that looks like it was always meant to be a part of your property's setup.