The one thing you can be sure of, in living in a country with extreme weathers, is the amplified abundance of heat in the summer season. An outdoor living space is meant to provide you with a little bit of indoor shelter amidst the outdoors.
The key function of your outdoor living space is to be comfortable enough for you to enjoy living outdoor without suffering from the effects of extreme weathers.
After all of what use is an outdoor verandah for your property in Melbourne if the heat is just amplified causing you to feel like you are being punished in a furnace. Of course the heat is intensified many a times because of steel roof that is a good conductor of the heat; however there is a way to bring the coolness of the indoors into your outdoors.
REDUCE THE HEAT WITH COOLDEK: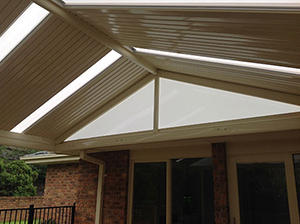 Cooldek panels are named and defined by their functionality. Wondering what that is? Read on, while I simplify it for you. Panels are designed and engineered with insulation and in order to be placed in the ceiling structure for your outdoor space.
A cooldek panel is made from polystyrene material, taking shape under the structure of a steel roof. You can also opt to have undersides depending on whether you'd prefer a fine-ribbed silkline design or a robust looking v-grooved design.
Alternately you could also select what thickness you'd want the panels to be, depending on what your need is. Be sure to take help from expert assisting you through the process! Below is the range of insulating properties as per the 3 levels of thickness:
50mm panel – up to R1.6
75mm panel – up to R2.2
100mm panel – up to R2.8
50mm panel – up to R1.6
75mm panel – up to R2.2
100mm panel – up to R2.8
DROWN OUT THE CHAOS:
Many a times the noise in your outdoor space can be quite peace- threatening. Like when the loud thundering interrupts the most peaceful moments or drowns out your own voice during a conversation.
Bring some of the indoor peace and quiet into your outdoor verandah or living space with the modern and efficient cooldek that minimising and cuts out on that extra sound of the heavy rain or the traffic that disrupts your moments of heaven in your outdoor verandah.
THE STRONGER THE BETTER:
Acquire the ultimate results of efficiency and modern aesthetics with the strong cooldek verandah that covers a span up to 7 meters providing you with lesser beams and framework.
GO GREEN:
Every home owner loves a good investment that helps in any kind of savings in the long run. In today's day every home owner in Melbourne strives towards energy savings and reducing energy costs. Cooldek turns such a goal into a possibility.
With the superior and high quality insulation, excess heat is blocked out of your outdoor living space, making it a cooler atmosphere that does not require additional cooling or the use of an air conditioner. With a cooler atmosphere you can enjoy your outdoor living space without having to use manual cooling, thereby saving on energy costs for your property in Melbourne.
A decision no home owner can ever regret is choosing a cooldek verandah to make your outdoor living space filled with the comfort of your indoors even whilst you relax outdoors.