Renovating your outdoor area is always a good idea, and who wouldn't want to utilise the extra space in their front yard to upgrade their home?
Verandahs can be quite benefiting especially on days when friends and family decide to visit. Installing a verandah does more than just beautify your front yard; it adds value to your property which is a bonus if you ever plan to sell your property in the future. Though the idea might seem delightful, the choices and planning involved in constructing the same can be quite puzzling.
HERE ARE SOME OF THE KEYS POINTS TO HELP YOU OBTAIN A PERFECT VERANDAH FOR YOUR HOME
Requirements = size
The first step in planning the ideal verandah for your home would be to perceive its uses. You need to know if you verandah is going to be used to enjoy reading your favourite book on those hot summers, host a barbeque party with your pals, or if it is going to be the next venue for your personal parties.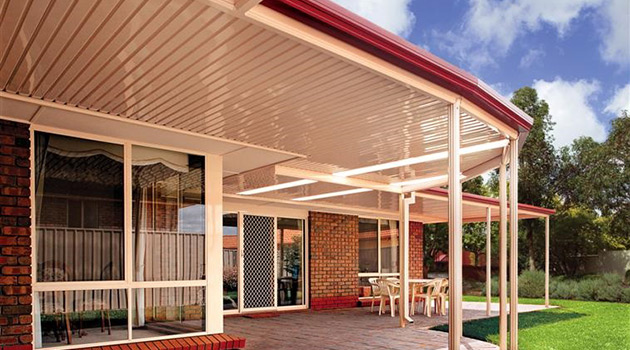 Knowing the use of your verandah will help you decide on the size of verandah you need. If your need for a verandah is just to acquire some personal space outdoors a smaller verandah might be just the choice for you while a verandah to host your parties and many guests would need to be larger in size; so use this as a guide to define how you would use your roof space.
Know your type
There is a wide range of verandahs one can choose from – sunroof, cooldek, Louvre, flat or curved in design, gable, the list goes on. Before having one installed it is important to know what kind of a verandah you are looking for and what would be ideal to blend in with your property.
Here are a few types of verandahs you can chose from:
Curved Roof Verandah: Is your key criteria style? If so then this is the verandah for you. Curved roof verandahs are known to add style to your home and the roofs designing of smooth lines will create the most sophisticated and classy look you can imagine
Gable Verandah: Gable verandahs are known to birth a splendid atmosphere for the outdoor entertainment area and are best when combined with a flat roof or pergola.
Gazebo Verandah: This is the absolute choice for glamour and is best suited with hexagonal shaped roof designing and bay windows.
Heritage Verandah: This is a great option to create lengths and spans and is created from style and versatility.
Pergola: Pergolas excel in creating the most pleasant open air feel with an abundance of light and the most air ventilation possible. They can even be refined to manage being kept open or closed to keep out the wetness of the rain. They are believed to add more greenery to your backyard with their characteristic of allowing climbing plants or creepers to grow.
Sunroof: Sunroofs are wonders of electronically designing that have beams that can be opened when the sun is required or closed when it is raining the sunroof is the ideal choice to withstand all kinds of weathers.
Make It Official and Legalize It
All the planning and decision making cannot be taken forward to construction until you acquire permission from your local authorities.
Each local council has procedures that vary from another and so you will have further information about these procedures only by contacting your local council.
Most verandah building companies usually assist you in reducing the tediousness of this step by taking care of it for you. So it would be a wise choice to find a company that does so.
Don't Exceed Your Budget
It is always good to decide before hand how much you're willing to spend on building or installing your verandah instead of being taken aback by the bill mid procedure.
Obviously the pricing will depend on the size, type, labour and materials used to construct the verandah so all of these need to be taken into consideration.
It is advised to find a company that is a budget friendly one in terms of building your verandah and it would be good to speak about your budget to the company before starting any work.
Utilization
As already mentioned, it is a good idea to first consider how you will be using your verandah before constructing or installing one.
Prioritising what are the key requirements would be helpful in constructing the perfect outdoor entertainment area. A few things to consider would be privacy, dining, cooking, light, shade, connection to exits, garden integration and traffic flow.
Construction
You can consider the construction of your outdoor verandah as a Do it yourself project; however consider so only after ensuring that you have the knowledge, skills, time, raw materials and builder contacts to do so.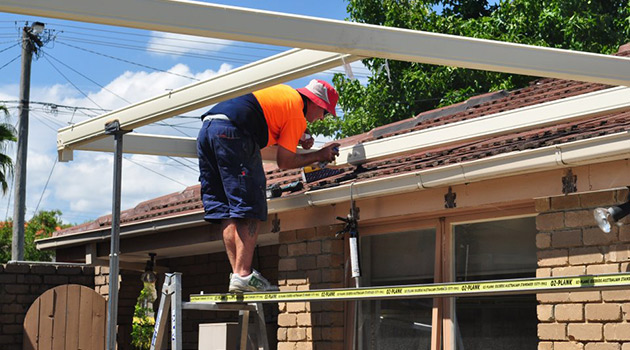 Failure to do so can result in you having a verandah half done that looks worse than not having one at all! So for those that do not posses all these requirements to be eligible for a DIY technique it would be advised to stick with the help of professionals.
Select a professional or company with good experience and good reviews not just on their work but also on their pricing and you will find yourself a pretty good deal.
Haste is Waste
When it comes to renovating your outdoor area, patience is key! It is always better to provide plenty of time for the entire procedures of planning, selecting the right builder, acquiring permission from your local authorities, construction period along with the delivery and construction of your verandah.
So make sure you set aside atleast 3-4 months for the entire process before expecting finished results. Once other permits are achieved the building permit would require an additional 10-14 days after being requested for.
The council approval that needs to be received before building can take up to 2 months of time so starting an early planning would be a good choice however makes sure not to rush. The best things in life take time.
Renovating or reconstructing your outdoor area can feel confusing when it comes to making decisions but keeping these pointers in mind, should help you make your task a little easier in acquiring the perfect verandah for your home be it curved, flat roofed, sunroof, gable, cooldek verandahs or so on.