If you're looking to revamp your outdoor property with a valuable addition, among the different options you will be assessing here are the answers to some questions you may have.
There is no answer as to which is the best Louvre roof verandah but it can be answered based on factors such as durability, if it is weather resistant, visual project design's outcome and the pricing. Here are some points that should be considered.
Durability
Durability is related to the blades as well as to the opening roof system, the motor and the general mechanism. This is heavily debatable but aluminium blades do provide best durable outcomes especially near seaside locations where rust could be an issue to deal with.Aluminium is more expensive than colorbond blades but it does provide good durability, span options and performance if it is installed correctly.
Louvre Blades
Currently in the market two Louvre types seem to be available- colorbond and aluminium. No matter which type of Louvre you may choose, make sure that you have a minimum 10-year warranty and that you have an option of maintenance from a local vendor.Some of the louvres also have stainless steel and aluminium pins and connections, which are very helpful and ensures durability for a longer period. Since your louvre roof verandah is in the outdoors and directly attached to your house you want it to have the capacity to withstand any weather.Hence it is very important to choose your louvre type after careful observation of your location and choosing it based on what environment it will be in. You will also have to choose roofing wisely to make sure that it doesn't get dirty fast.
At the end of the day we fall short of time in our busy schedules and we're all looking for investments that are low on their maintenance demands.
Colorbond
It is a two-piece pressed blade with foam between the core.
Disadvantage
They are less robust than aluminium options and they have a higher chance of gathering rust.
The Colour options are restricted. They are cheaper than all the other products in the market.
Disadvantage
They are very pocket-friendly.
Aluminium
It forms the basis of a sturdy louvre which is powder-coated or can have an anodized finish.
Disadvantages
Advantages
Variety of colour options, including wood grain option.
Predictable performance.
Wide choice of blade styles.
Easy to maintain.
Louvre opening systems
Since louvre roof systems have been in the market for approximately 20 years now, you will find that most systems provide an opening and closing function for your roof which is very useful and helpful in keeping the area dry from the rains and dust and good in maintaining openness as well. Some systems are more complex and that is why it is expensive to purchase, install and maintain it.
Since it is expensive, and you are paying a larger amount for it make sure your warranty covers 3 years for electrical and the components needed for continued maintenance.
Most systems will offer options like rain sensors, home cbus integration, remote controls, lighting and blinding integration functions that will be very helpful but also expensive.
Weather resistant
Through research and experience we have come to know that most manufacturers can now provide great product performance when it is raining, and that the louvre roof can only perform well for many years if it is installed correctly as well as maintained.
Since it is built in the outdoors it is very important to make sure that your louvre roof is water-resistant to make sure that your furniture and other items placed there shouldn't get damaged due to bad weather conditions.
Project outcome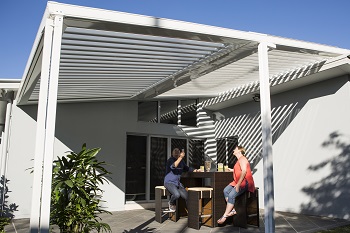 It is very important to make sure that your louvre enhances and compliments your house and should go well with your home, it shouldn't look like it stands out, but it must blend in well with the house and the rest of the environment.
Hence professionals are hired to be able to help you find the best louvre type and design to go well with your house, the surroundings and see which is better for the location in which you live in. It is expensive, but the outcome will be visible.
There is an option of frames like colorbond steel frames, standard steel- painted, aluminium, timber and rendered frames but not all manufacturers can offer these options.
Proven services
Here is a life span for everything, motors will grow old, components will ware out there will be many factors that will need rectification, but if you pick a long-term locally based vendor that gives you the option of easily available maintenance solutions and leaves you stress-free.
Pricing
There are many factors that play a vital role in the pricing. Do your own research and look up the different designs that are available and what suits your verandah better, the different prices that are available and then make a decision in order to save on your expenses, don't just jump at the first design that comes your way but do your own research and take a decision because what looks good on someone else's house might not work for your house.
Summary
There is no answer as to what is the best louvre roof verandah but now you know the different factors to take into consideration when you choose a builder to work with, pick an established builder with experience in louvre roofs who can guide you into seeing what's best for your house and provide you with the design that is best for your house with benefits, permits and a price that suits your budget.