Renovating an outdoor space by adding a roof is a great way to increase a home's value and appeal.
If you're looking for a pergola, stratco or carport design Melbourne residents could benefit from using, there are many features to take into consideration. It is important to take time to design an area that fits all your needs for outdoor entertainment or relaxation.
Whether you're motivated to renovate your new space for a special event or daily enjoyment, deciding on the size, shape and style of your addition takes some careful thought and planning. Take a look at the important details that must be considered before you can start enjoying a newly renovated outdoor space.
A STRONG ROOF IS IMPORTANT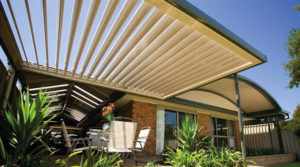 If you're looking at adding patio roofing to your home, it's important to make sure you choose a sturdy design. Both patios and carports need roofs that provide the right amount of coverage from the weather.
Gable roof designs are especially popular because they offer so much beauty and stability. Gable roof designs can stand up to wind and other elements year after year without requiring a lot of maintenance.
There are also some terrific flat patio designs to choose from. Flat patio designs are great if you need a roof that can cover a large area.
WHAT TO CONSIDER BEFORE RENOVATIONS BEGIN
There are a few steps you need to take before the fun of starting your renovation can begin.
Permits, building codes and aesthetic goals are just some of the factors you need to plan for in advance. The good news is that any reputable patio roofing builder should be able to take care of all these important details for you.
Your builder should be able to be by your side to answer questions and make sure everything is set up for a successful installation process.
CHOOSE THE RIGHT MATERIALS
As you begin designing your new carport, covered patio or stratco, you'll discover that there are a variety of materials you can choose from. The materials you choose should be based on durability, longevity and appearance.
A reputable builder can offer you options that fit with the existing theme of your home. Most modern patio roof designers would recommend going with a steel design. Steel is a desirable choice because it is extremely strong. In addition, steel is easy to maintain.
THE IMPORTANCE OF HIRING A BUILDER
Many people mistakenly think they can take care of installing a roof over an outdoor patio on their own. It should be stated that adding a roof is not simply a weekend project that the average person can do. It is important that precise measurements and proper materials are used during the process.
Failing to have your roof professionally built and installed could create untold amounts of expensive damage down the line. In addition to creating something that will last, a professional builder can introduce you to versatile flat patio designs that work specifically for your type of property.
GET YOUR PROJECT STARTED
If you're looking for a carport design Melbourne residents will admire every time they drive past your home, the team at Modern Solutions can help.
Modern Solutions can design and install an attractive, high-quality roof that transforms your outdoor space into a perfect area for relaxation and recreation.
Take a look at some impressive designs at Modern Solutions to get started.